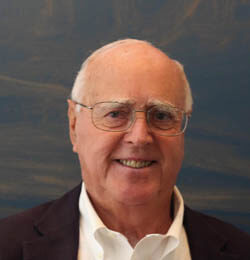 Robert E. (Bob) King is, with his wife Dorothy J. (Dottie) King, a cofounder of King Philanthropies.
Bob grew up in Melrose, Massachusetts, as the son of a municipal bond salesman. He received his B.A. in economics from Dartmouth College in 1957 and graduated from the Stanford Graduate School of Business in 1960. He joined the Wall Street brokerage and investment firm Shearson, Hammill & Co., working in New York and San Francisco. After twelve years at Shearson, Bob and Dottie together established their own investment management company, R. Eliot King & Associates. There, Bob developed a highly successful investment approach, identifying long-term investment opportunities by focusing on fundamental change forces at work in the world—political, social, economic, and technological. Bob subsequently founded Peninsula Capital and remains an active venture investor in domestic and international companies.
Bob plays an active role at King Philanthropies as a board member. He is a past elder at Menlo Park Presbyterian Church. Bob is a former alumni investment manager for the Stanford Business School Trust, a former trustee of the Kennebunkport Conservation Trust, and a former board member of Village Enterprise Fund.
Bob and Dottie live in Menlo Park, California, and Kennebunkport, Maine. They especially enjoy spending time with their three children and eight grandchildren.